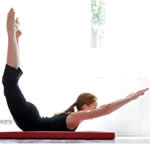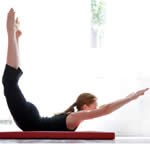 [wp_ad_camp_2]
Denise Austin | Prevention
Possibly one of the most exciting aspects of Pilates is that anyone can do it, and everyone can achieve amazing results. Because there's no bouncing, jarring, or stress to your body, Pilates offers the ideal form of exercise for people who, because of joint pain or muscle weakness, shy away from exercise.
It's also convenient. You don't need any heavy, expensive equipment, and you can do Pilates anywhere, anytime. Some of the routines take less than 10 minutes, making Pilates the perfect form of exercise for anyone who finds there's not enough time in the day for exercise. You have 10 minutes to strengthen your abs and back, don't you? You'll start to see and feel results in as few as 10 sessions.
Just some of the many ways you can benefit from doing Pilates regularly include:

A Healthy, Supple Spine
Pilates gives more support to your spine, creating space between each vertebra. That extra space not only makes you appear taller, it also creates more mobility, transforming your spine from a stiff rod into a supple string of pearls. This new suppleness prevents degenerative spinal problems, such as slipped disks. It also helps you move with more grace and ease.
Read more about pilates – click the link below:
[wp_ad_camp_3]